A Man Called Horace

Back in February 2009, Roger Kettle recalled the history behind Horace:
"Andrew and I were approached by The Daily Mirror and asked if we would be interested in doing a strip for them. This approach had been based on research they had done about the percentage of readers who followed a comic strip in their chosen newspaper. Apparently, Beau Peep in "The Star" had come out top. We were hugely flattered and, in this business, opportunities like this seldom come along so we put our heads together.

"I really liked the idea of a Western strip. We had already done a series of one-off cartoons for men's magazines which spoofed the Lone Ranger and I suggested to Andrew that we expand on that.


A detail from one of the 'Randy' 'Lone Ranger' cartoons.

"And so it began. Having decided that we were going in that direction, we then had to come up with a title. In my mind, I started trawling through the titles of famous Western films and the obvious one was "High Noon". My first suggestion was "Five Past Twelve" which Andrew, rightly, discarded as too obscure. Then I remembered one of my favourite Westerns of all time -- 'A Man Called Horse'.......




"......not a huge step to 'A Man Called Horace'.
From the beginning, I always thought that Horace was going to be a kind of brief spin-off from the (at that time) reasonably successful Beau Peep. It's now been going 20 years and---well, I can't believe it."

---
A Man Called Horace was launched in the Daily Mirror on 29/05/89. It also ran in the Mirror's sister paper in Scotland, the Daily Record.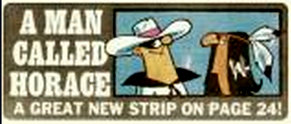 Despite being numbered X127, this is the first strip -- it's the Mirror's referencing system which indicates it as the 127th strip of 1989. The established strips (Andy Capp etc) published in the paper that day also carry that same number. The first strip of 1990 was Y1.
Some classic strips: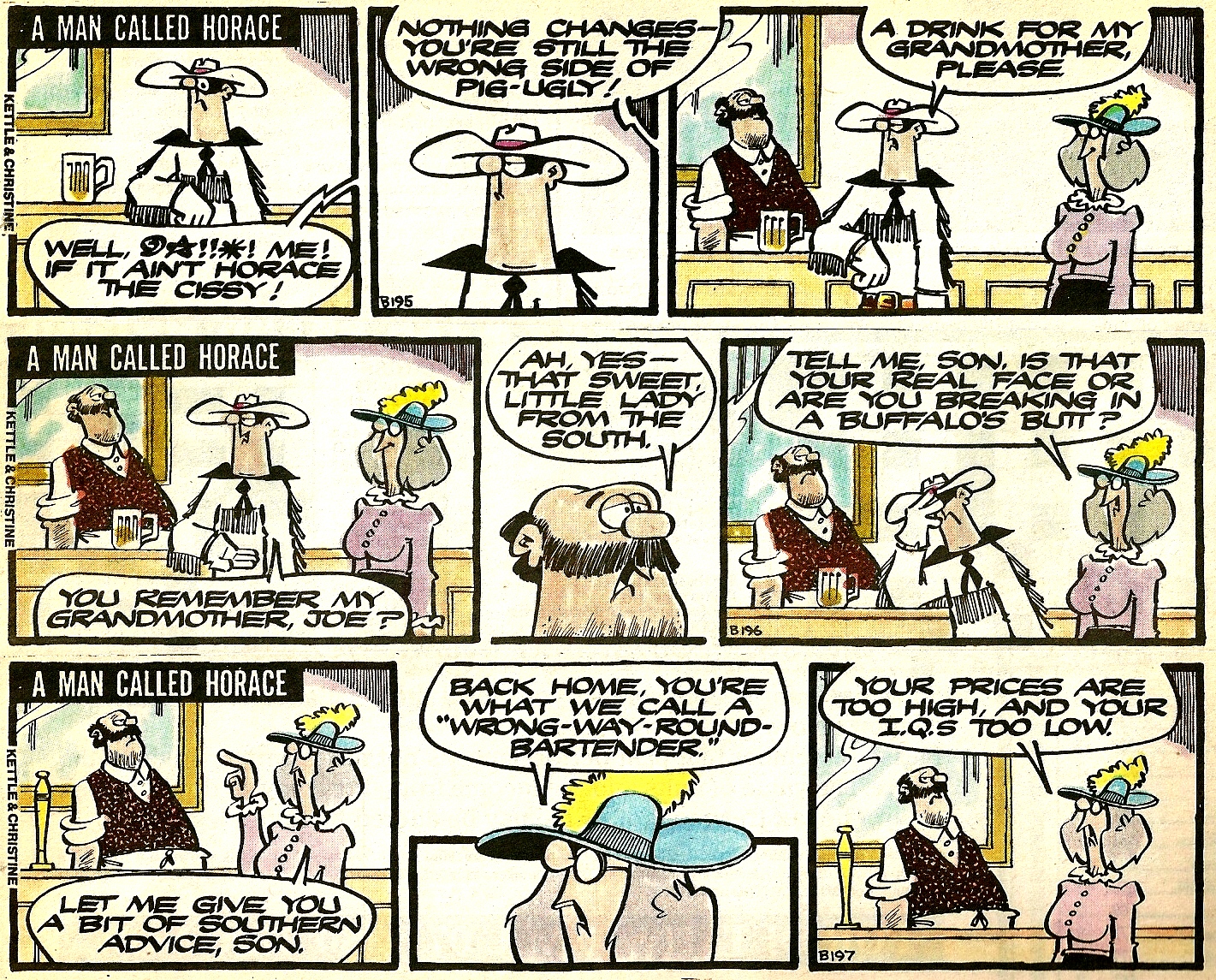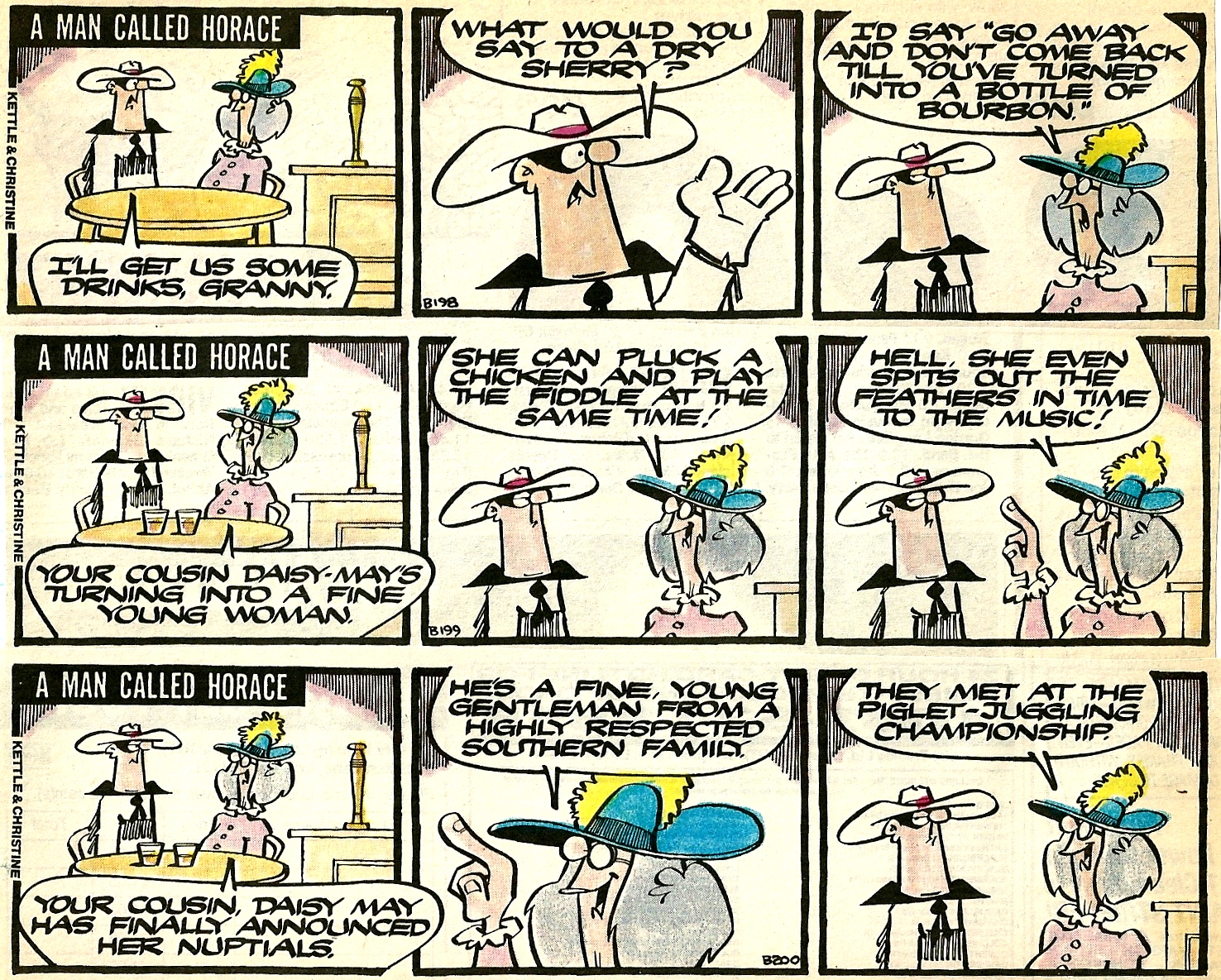 ---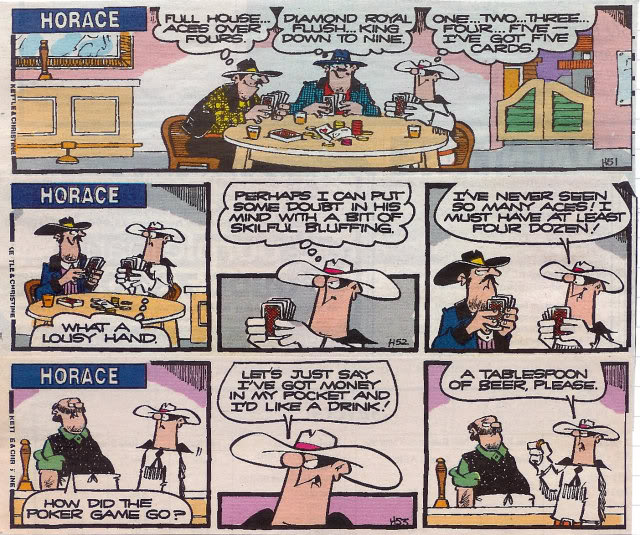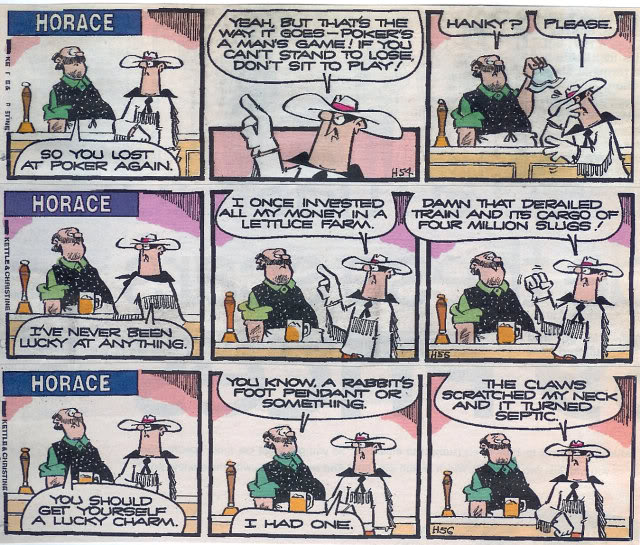 ---
The Daily Mirror only ever published two Horace books -- the first in December 1992, the second in the following year, 1993 :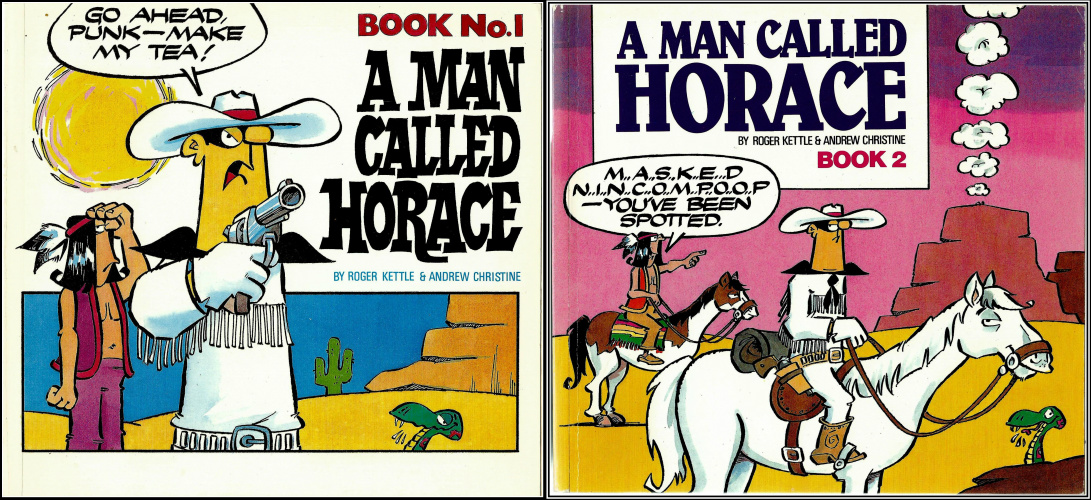 They were published by HHL Publishing Ltd, in conjunction with Mirror Group Newspapers (MGN). Despite the wonderful covers, the collection of strips in both books were mostly reproduced in black and white on poor quality paper -- and some of the strips in each 6-day series were even printed out of sequence from how they would have appeared in the Mirror.

This was a missed opportunity by MGN to capitalise on the success and popularity of the strip. Even Sir Terry Wogan, when he presented the BBC Radio Two breakfast show, was occasionally heard to describe, read out and chuckle over, that day's Horace strip.
---
A Man Called Horace was dropped from the Daily Mirror in June 1996 to make room for a new (and, frankly, terrible) cartoon strip called 'Real Life' by the paper's new editorial cartoonist Tom Johnston (and, coincidentally, a friend of the-then Mirror editor Piers Morgan). Luckily for Scottish fans, Horace continued to be published in the Daily Record.
In October 1997, A Man Called Horace returned to the Daily Mirror, but the actual strip title was, rather disappointingly, shortened to just 'Horace'.
Then, on Saturday 1st August 2015, the last ever Horace strip, featuring the incompetent Bandits, was published:

Reprints of old 'Buck Ryan' strips began in Horace's place on the following Monday. No announcement was made in the Daily Mirror that Horace was to end, nor were there (or ever have been since) any responses to readers' emails, letters and tweets asking where the strip had gone.
However, Roger Kettle did explain things. As well as a posting on this very website, Roger wrote the following for the Horace Facebook page on 3rd August 2015:
End of an Era
Those of you who read the "Daily Mirror" or "Daily Record" may have noticed a Horace-sized gap in your paper today. Sadly, after 26 years, the strip has made its final appearance. Due to the financial situation at most newspapers today, severe cuts are being made and Horace is a victim of these circumstances.
Andrew and I would like to thank all those readers who have followed our daft little characters over the past quarter of a century -- it really is appreciated.
Who knows -- maybe Horace, Mojo, Granny and the rest will pop up somewhere in the future.
In the meantime, thanks again.
I'll leave you with a line from Granny to the outlaw, Jesse James... "Son, you've got a big mouth and a girly name -- neither of which will stop a knee to the groin."
Keep smiling.
Roger Kettle.
A Twitter page has been sent up to campaign for his return. Please show your support by tweeting using the hashtag #bringbackhorace.
A Horace promotional website has also launched.

---
A series from May 1998: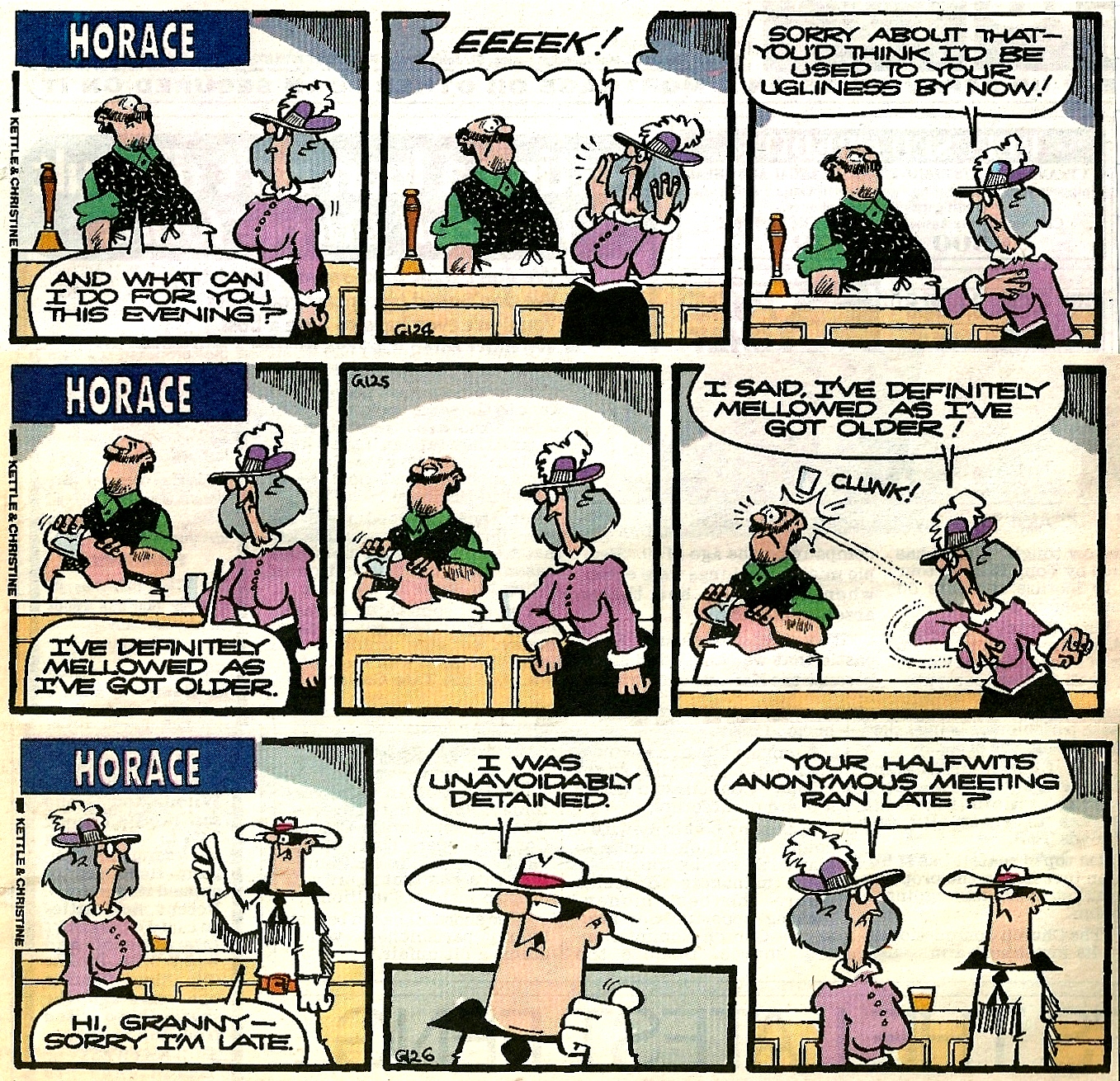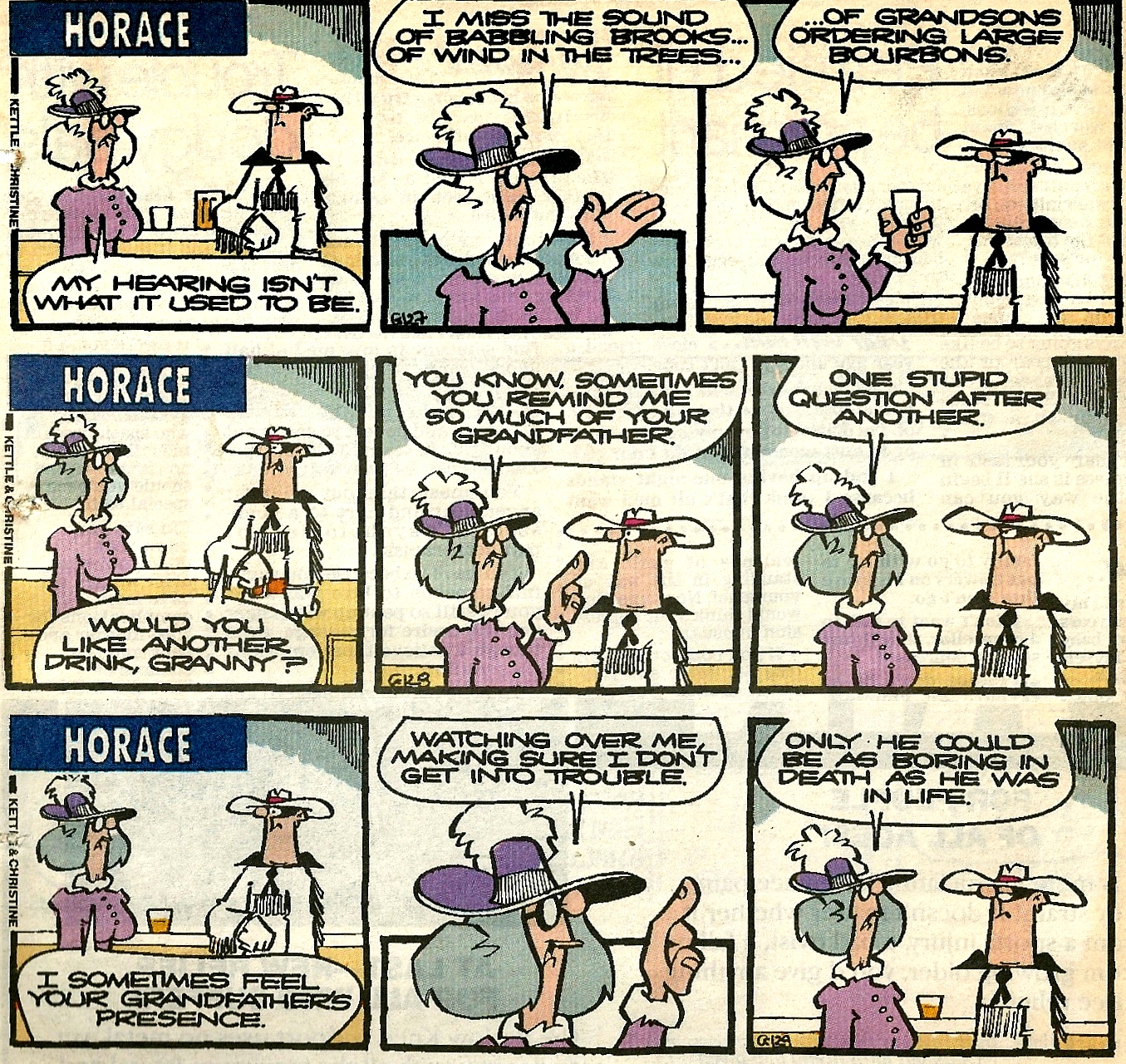 ---
A book advert in the Daily Mirror in December 1992: