Ghost Artist
Late in 2000, Andrew Christine was very poorly after cracking some ribs, and was unable to continue drawing. Roger's friend, the professional cartoonist Steve Bright (pen name 'Brighty') stepped in and drew two week's worth of strips, which were published in January 2001.
Week 1: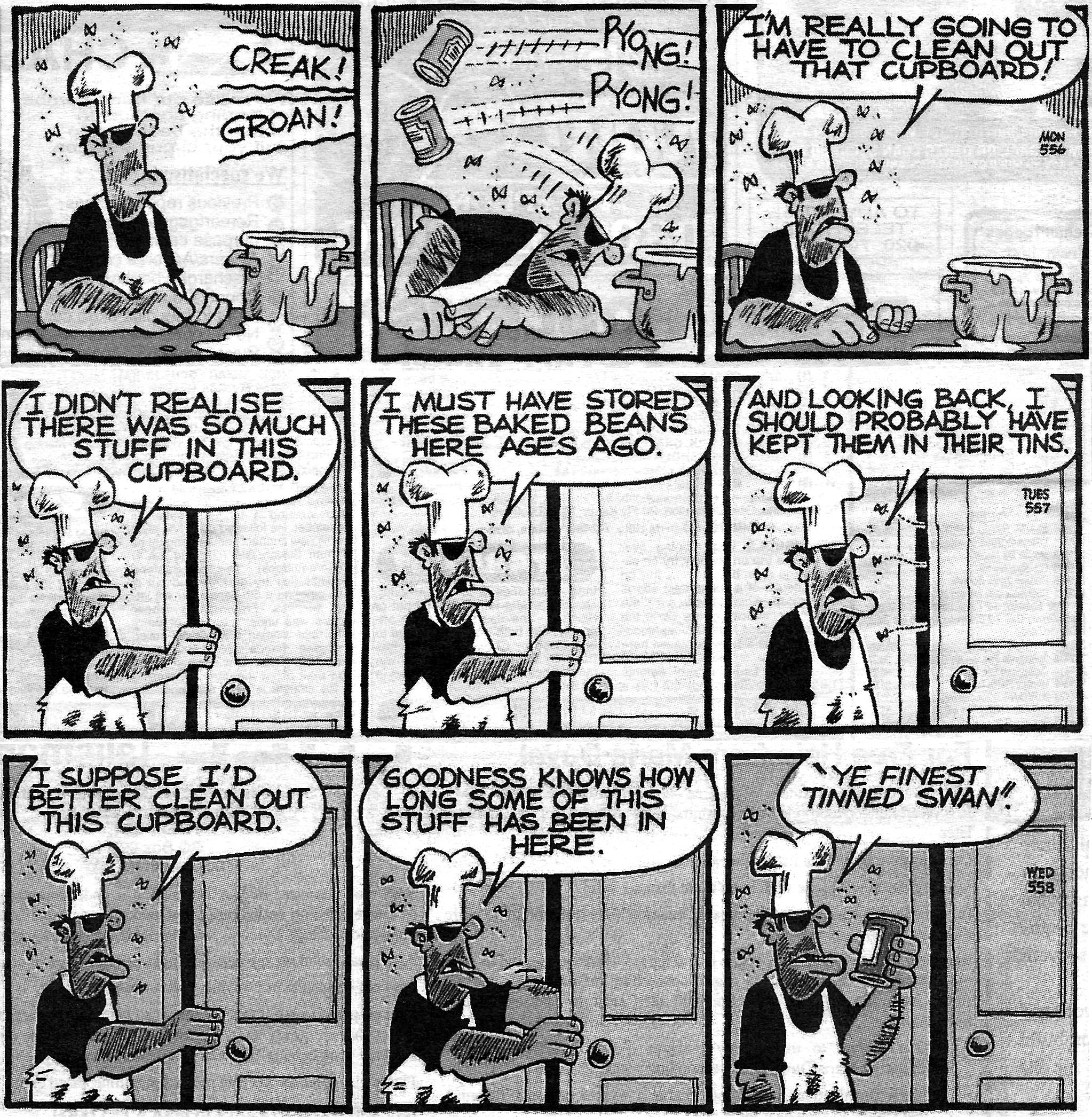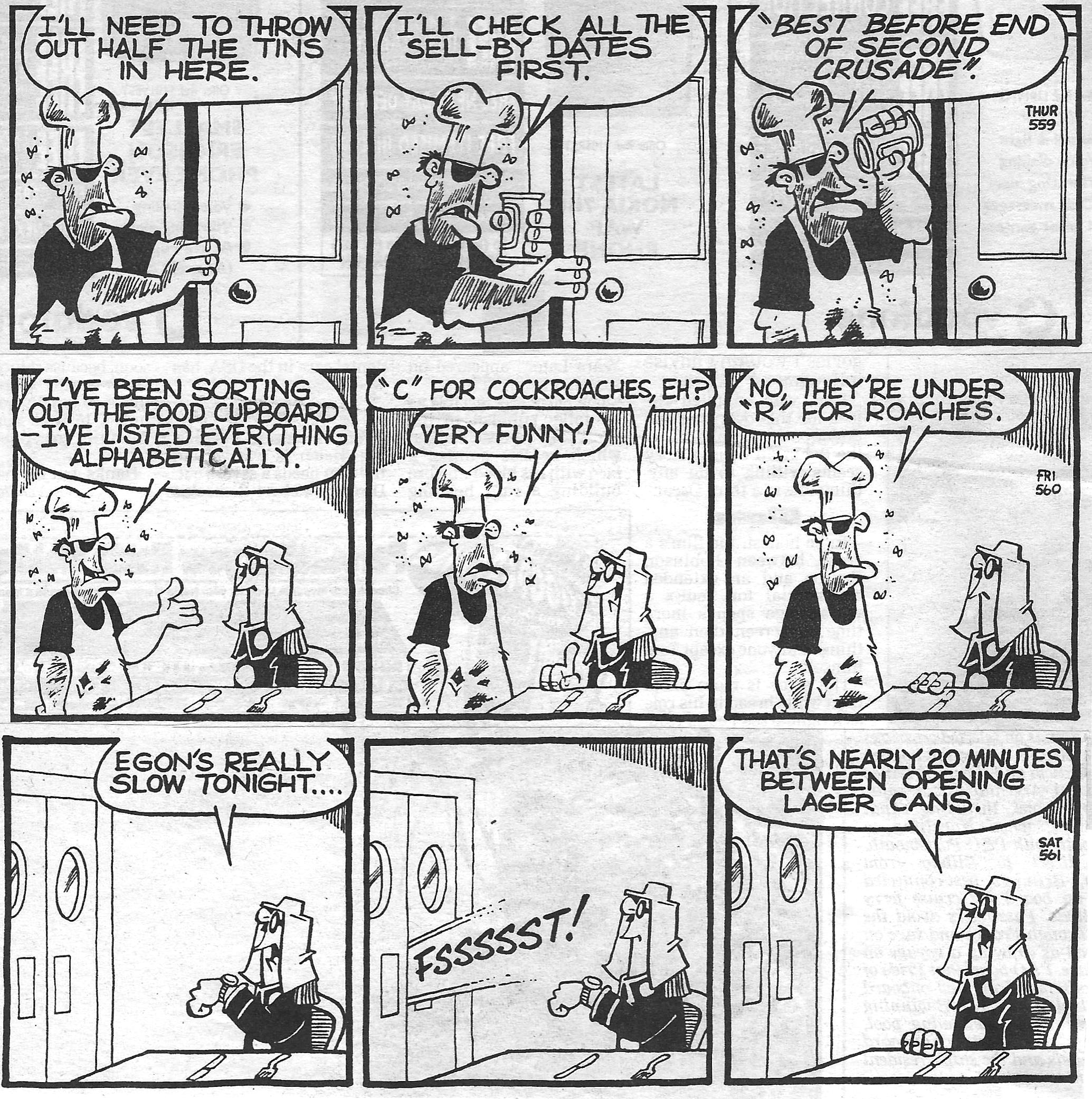 Steve remembers:
*"I have to say I was very honoured to be entrusted with drawing Beau Peep for the couple of weeks it took Andrew to recover....but the money also helped.


I should also say that my main objective was to ghost Andrew's style as closely as possible so that as few people as possible noticed they weren't his work.


I've done ghost work numerous times in my career, drawing established characters such as Desperate Dan and Dennis the Menace, but it was even more important you couldn't see the join with Beau (self-imposed pressure -- I got none from Roger).


It was more akin to forgery than cartooning, but hopefully I managed to fool most of the Beau Peep readership. I know there were a couple of eagle-eyed anoraks who did spot the change, but not enough to do the strip irreparable damage I'm glad to say.


Thankfully, Mr Christine appears to have enjoyed remarkably good health ever since...in spite of all the letter bombs I've sent him". *

Week 2: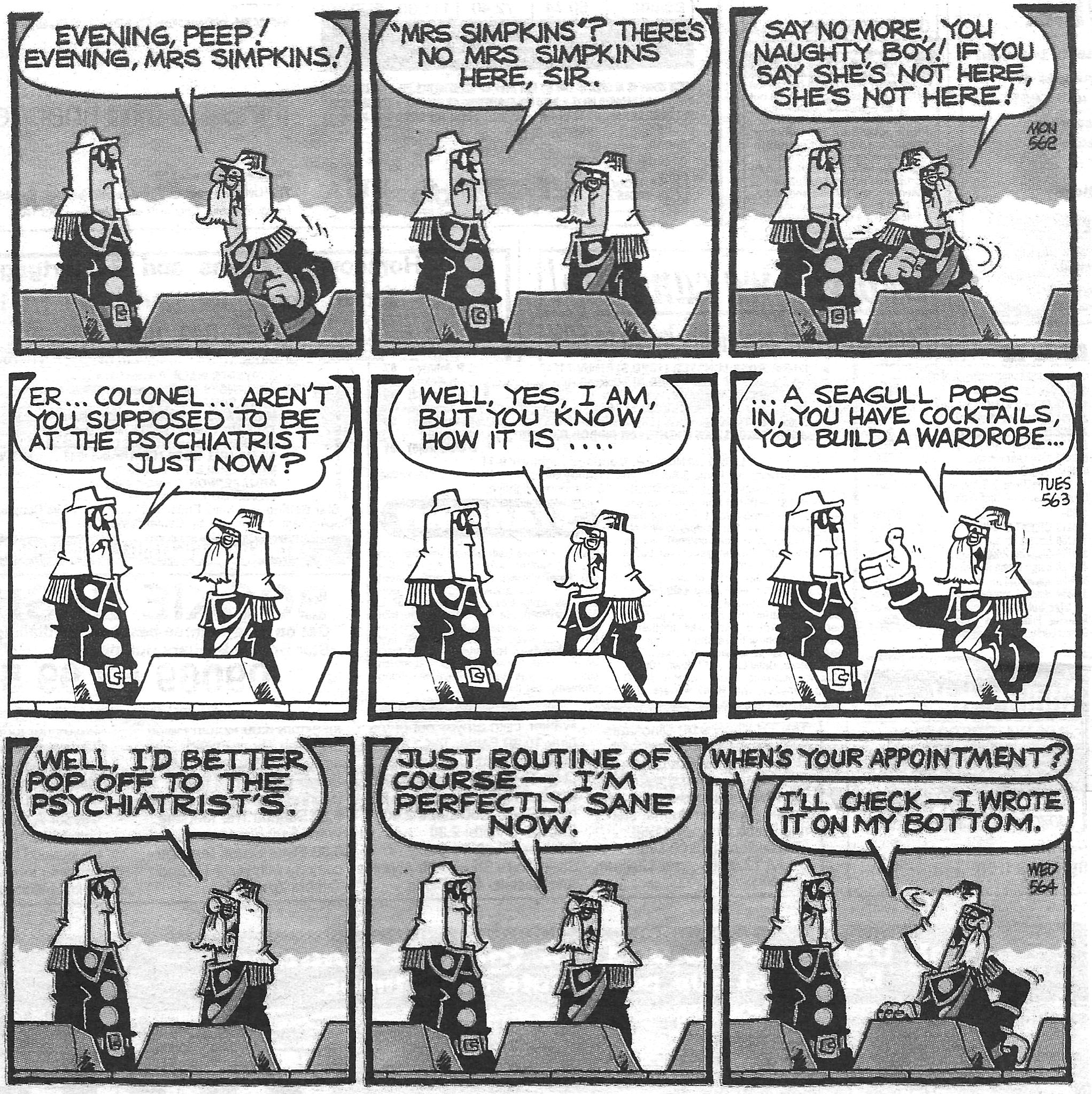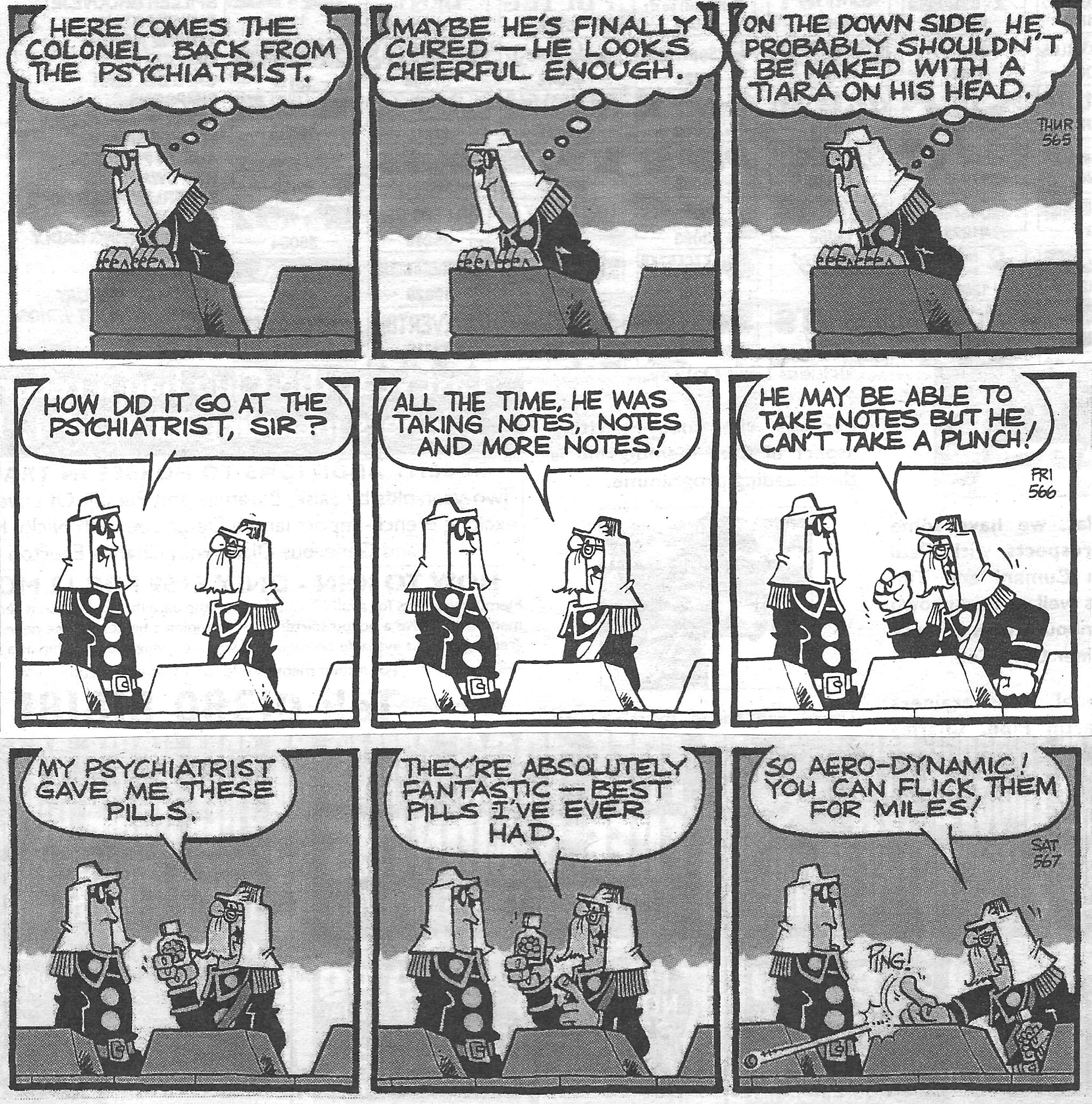 "Not only did Steve create Bananaman, he also supports St. Johnstone. The man is too cool for words."

Glasgow-born Steve, above left, is professional freelance cartoonist and caricaturist (isn't his Hugh Laurie incredible?). He's supplied scripts and artwork for numerous publications and clients over the years including The Beano, The Dandy, The Beezer, The Topper, Nutty, Hoot, Buster, the Daily Record, the Sunday Times, the Funday Times, Wallace & Gromit, Shaun the Sheep, the Glasgow Herald and is a regular contributor to CamelDung.co.uk. Currently, he is the editorial cartoonist for The Sun newspaper.

Steve writes:
"Like Roger, I started my working life as a DC Thomson sub-editor, aged 18 -- one week out of school, and hired as the office junior on the Beano itself. I had no idea until that first day I was about to start a career in comics -- I actually thought I was about to become a cub reporter on one of their newspapers (and arriving with a brand new trench-coat in readiness).

Four days later I wrote my first script, and had it passed unaltered, on its way to being read by over a million people. I can't describe the kick that gave me.

Another week later and I found myself with the responsibility of writing 4 weekly-strips for the biggest-selling comic in the UK.

18 months later I was asked to move out -- to become part of a 2-man think-tank charged with creating a brand new comic. This eventually turned out to be 'Nutty', and my very first task on day one was to come up with a superhero character we called Bananaman.

Four and a half years later, I quit as a sub-editor. Walking out on a Friday, only to return the following Monday with my first pencil sketch as a freelance cartoonist, and continuing to work for DC Thomson on and off for the next 30 years.

I vividly recall going for a 'slap up feed' (comic talk) a few months after I started working at DCT, to celebrate the Beano's 40th anniversary, and feeling like a right fraud -- having only just stepped through the door of a four-decade history. It's rather surreal for me to think that I've now been working for both the Beano and Dandy for more than half their lives, not to mention two thirds of my own."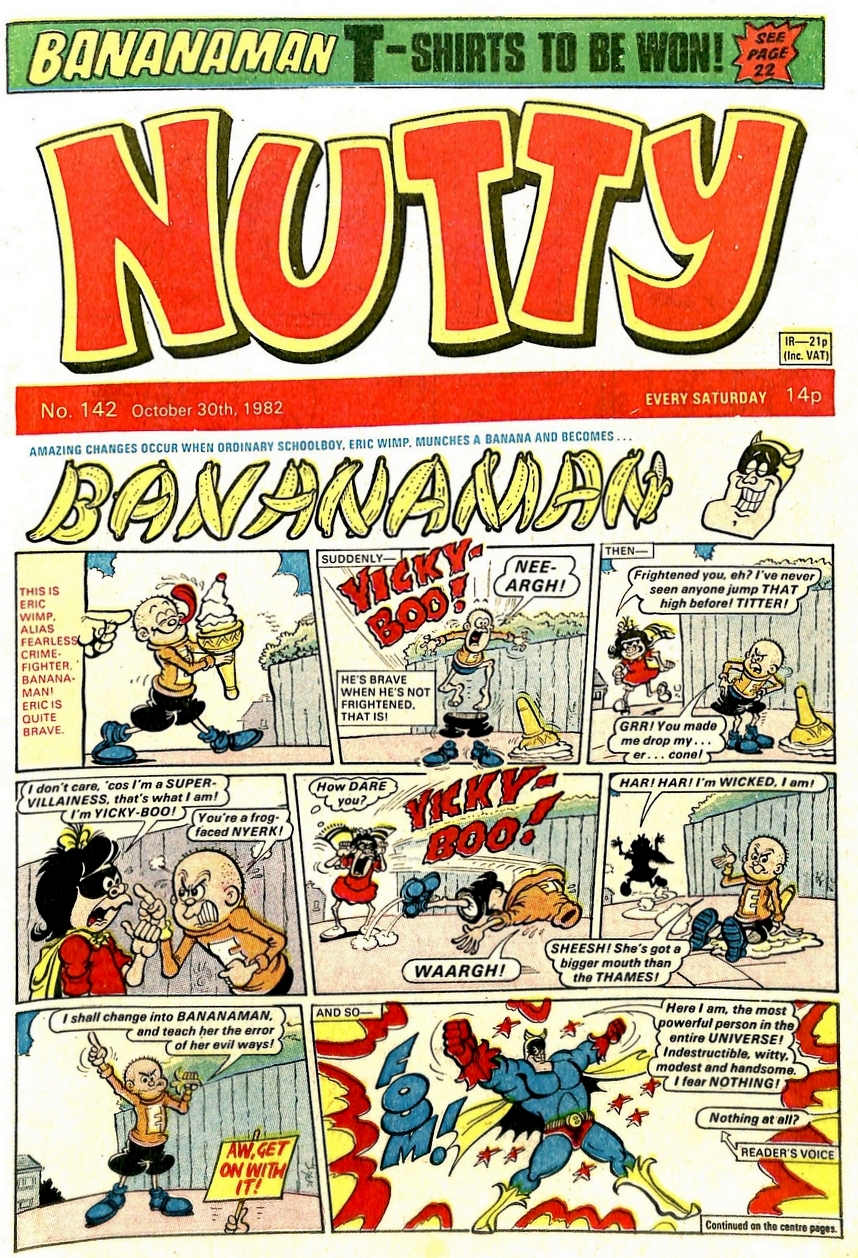 "Bananaman first appeared in Nutty comic in February, 1980 -- the same week as my 21st birthday. He was drawn back then by the late, great John K. Geering, and it was many years later, after John's untimely death, that I eventually got the opportunity to draw the character for The Dandy (Nutty having long disappeared).

But yes, I wrote all of the early scripts -- the first shortly after my 20th birthday -- which I sketched out for John, and which he followed very closely, to my great delight. Eric, Bananaman's alter ego, is my middle name.

A couple of years later, DC Thomson were considering their first foray into TV animation. Dennis the Menace and Desperate Dan were the obvious candidates, but the animation executives apparently caught sight of Bananaman whilst in Dundee for preliminary talks, and insisted that he was the one to bring to the small screen. And so they did.

I wasn't a great fan of the animation, if I'm honest. I wanted Cosgrove Hall to do it, but had no say in the matter, and a cheaper route was taken, and it showed. Or so I thought. John Geering seemed happy enough with the early viewings however, and he knew far more about these things than me, so perhaps I was wrong.

The televised cartoons enjoyed considerable success back then, having opted for the whole thing to be voiced by The Goodies. Other voice options included Brian Blessed (brought in initially when they thought Desperate Dan might be chosen), but my own favourite was Ian Lavender, who did a demo tape using his Private Pike voice for Little Eric, and a wonderfully deep version of the same for Bananaman, which I thought was perfect."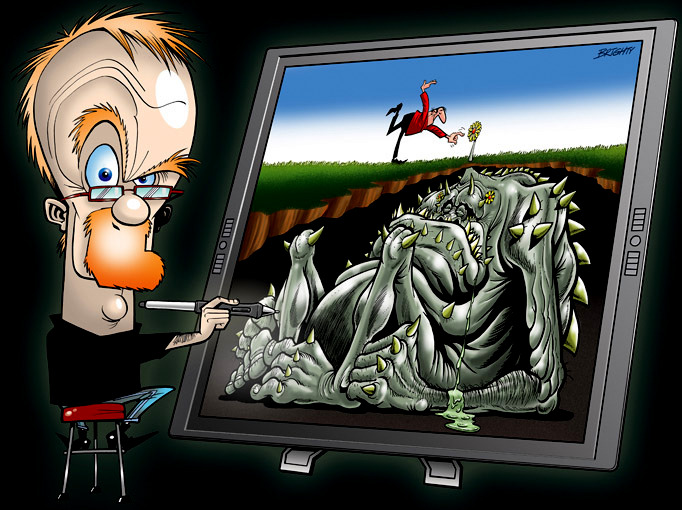 Steve's website is http://www.brighty-art.co.uk
---