Editorial Cartoons
The Daily Star used to run an opinion and features page every day, along with a large topical 'editorial cartoon'. Beau Peep was featured on a few occasions: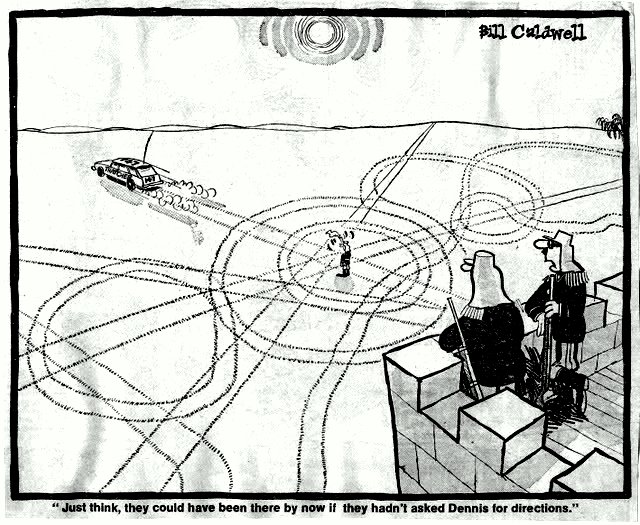 This Bill Caldwell cartoon was published on 15-01-1982.
On 9 January 1982 Mark Thatcher, his French co-driver, Anne-Charlotte Verney, and their mechanic went missing for six days in the Sahara Desert whilst driving a Peugeot 504 in the Dakar Rally. They were declared missing on 12 January, a large-scale search including six military aircraft from three countries and Algerian ground troops was launched and his father, Denis Thather, flew to Dakar. The Algerian military eventually found them, 50 km off course.
Footnote: In 1987, the Daily Star gave Mark Thatcher the "Dennis Pratt Award for Outstanding Stupidity".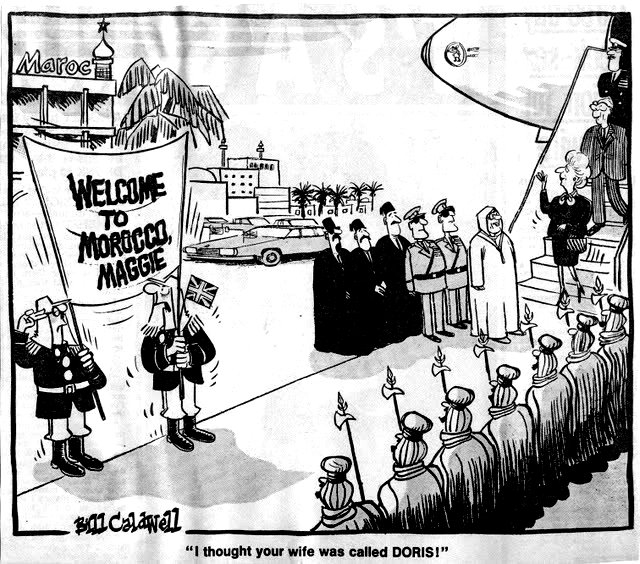 And, staying on the Thatcher theme, when the then Prime Minister visited Morocco in March'89. This Bill Caldwell cartoon was published on 27-03-1989.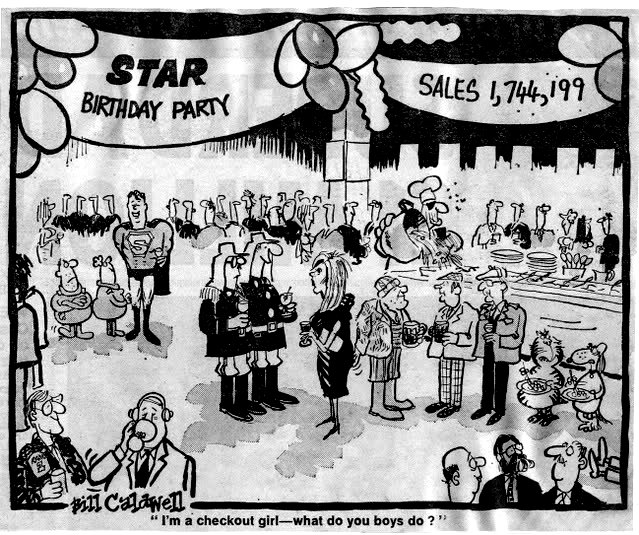 This Bill Caldwell cartoon was published on 02-11-1984 to celebrate the Daily Star's circulation figures on its 6th Birthday. 'Checkout Girl' was a cartoon strip (about the, er, adventures of a supermarket checkout girl) which ran in the Star at that time.
Other Star strips depicted here include 'Last of the Summer Wine' (drawn for the Star by Roger Mahoney), 'King Kat', and 'Superman'.
Bottom left is the Radio 1 DJ Simon Bates who wrote a music column. The other characters are believed to be Daily Star personnel.
Note the person passed out in the bottom right corner (either through drink or after having sampled Egon's buffet) -- could this be a depiction of Roger or Andrew?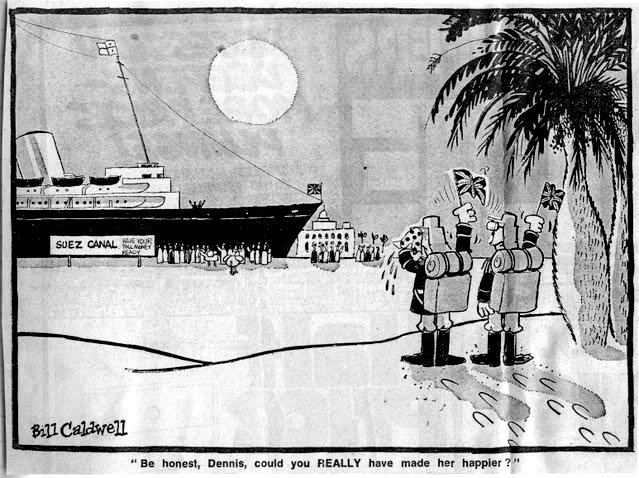 Another from Bill Caldwell, published on 14-08-1981, referring to the honeymoon of Prince Charles and Princess Diana.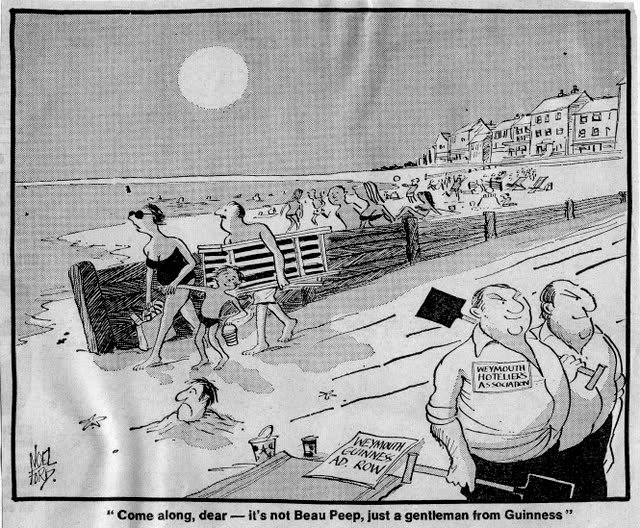 This one is from 17-08-1983 and drawn by Noel Ford who, was the Star's other Editorial Cartoonist, alongside Bill Caldwell. It relates to a Guinness TV advert which purported to show 'Sunny Skegness' -- but was actually filmed on the beach in Weymouth. A top executive from Guinness had to go Weymouth to apologise to their tourism people.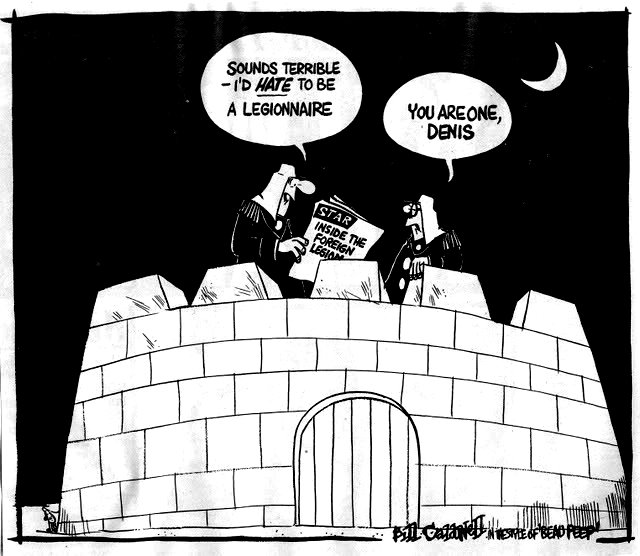 Another by Bill Caldwell from 27-03-1990, when the Star was running a series of articles about the French Foreign Legion. Note the acknowledgement in Bill's signature.
---
Bill Caldwell's website:
http://www.billcaldwell.com/
Noel Ford's website:
http://www.ford1.demon.co.uk/