Stringfellows
In September 1987, a month after the last Pontin's Beau Peep Party tour, the Daily Star hosted a star-studded Beau Peep bash at Stringfellows nightclub in London.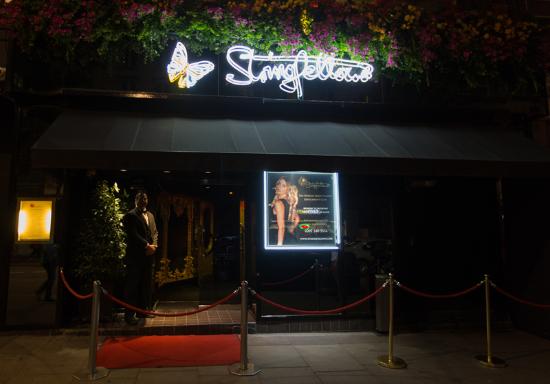 This was the official invitation:

A feature about Roger and Andrew in the Scottish "Herald" newspaper in 1990 said:
".....suffice to say that Kettle and Christine, supreme journeymen of the cartoon strip trade, now find themselves in great demand. Their current handsome contract for Beau Peep was signed over champagne at Stringfellows club in London."
The Star ran a report about the party on 18th September 1987: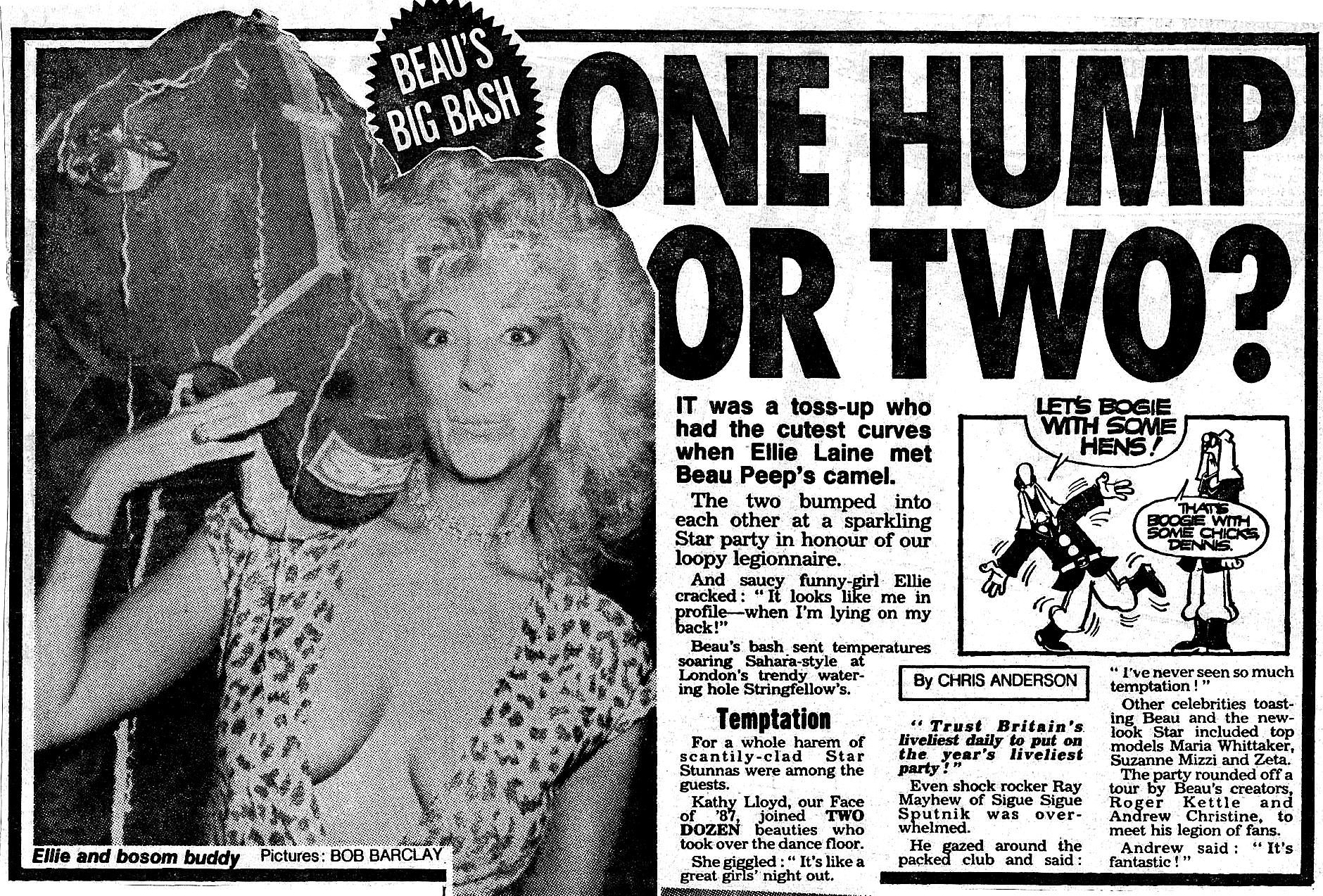 In 2014, Roger Kettle and Steve Bright reminisced about the Stringfellows Party on our Beau Peep Forum
Roger:
".....Anyway, the final leg of this...ahem..."tour" was a party in Stringfellows, which was surreal, to say the least. All the bar staff were wearing the aforementioned t-shirts and the decor of the whole place related to the strip. We were given loads of free tickets so we invited lots of friends like Steve to join in the fun. It was, I believe, a fine night.
The bit about signing a new contract over champagne is a tad exaggerated. The Star had a new editor and, because he was aware that the strip was almost out of contract, talked to Andrew and I about getting it renewed before we fled back to Scotland. We signed it the following day in his Fleet Street office.
In those days, The Star actively promoted Beau Peep and we were made to feel an important part of the paper but times have changed. It's probably been 15 years since an editor spoke to me. The cost-cutting climate in newspapers today is such that everyone keeps their head down and simply gets on with their own job.
It was bloody good fun while it lasted, though!"
Steve:
"I remember Pepsi & Shirlie being there... and Lloyd Honeyghan, I think... and some woman called Maria Whittaker who was very big back then... and some strange bloke dressed as a camel, lurking in the shadows...
It was indeed an epic party, especially for those of us who'd rarely strayed beyond the bricht lichts o' Broughty Ferry before then.
Roger:
There is (for us) a famous story about Maria Whittaker concerning that night. A pal of Andrew's from Fife turned up at the do, wearing the full Highland get-up -- kilt, sporran, the works. His name, honestly, was Sandy and at 6ft 4" was an impressive figure.
Anyway, Maria spotted a photo opportunity and snuggled up to Sandy and asked if he wouldn't mind having his picture taken with her. (The event was obviously being covered by Daily Star photographers). Now, at that time, Maria Whittaker was one of the most famous models in Britain. Sandy, however, had just arrived and, at that stage, hadn't managed to take advantage of the free bar.
"Come back when I'm fired up, lass" was his now-legendary response.
Steve:
She wasn't happy. Cost me two cider-and-Babychams from Roger's free money before I could get a smile from her, and by that time Andrew's pal was all fired up. Curses!
A souvenir T-shirt:

The Star ran a competition to win tickets: