Worst Cook in the World award
The Daily Star ran a competition in September 1984:
DO YOU KNOW A WORSE COOK THAN EGON?
Hunt is on for Britain's No 1 Food Bungler
Egon, that Foreign Legion cook, is the worst cook in the world, say his mates Beau Peep and Dennis.
But is he really the worst? Or do you know a cook who can outdo even Egon in coming up with foul concoctions? A cook who can turn delicacies into mush, can't boil an egg, or mixes boiled cabbage with jam?
In this fun Daily Star competition we are looking for that canteen cook, army cook or school dinner lady who really tortures you at mealtimes.
Or any cook -- man or woman -- who regularly provides sustenance (we can't call it food) for a group of long-suffering people. Like a Scoutmaster, or group leader, for example.
We want you to tell us why they should win the "Egon Worst Cook in the World" award. Tell us in no more than 25 words -- on a card or letter -- what makes him or her a kitchen soulmate of Egon.
The best entry for originality and humour, in the Editor's opinion, will win a specially-created piece of artwork from Beau Peep's creators Roger Kettle and Andrew Christine.
The full-colour drawing of Egon, with a special message to the worst cook, will be framed -- and with it goes a £100 cash prize.
Two 'Worst Cook in the World' runners-up will win a framed copy of the Egon drawing and £50 and £25 respectively.
Send your entries to EGON CONTEST, PO Box 210, Manchester M60 1EJ. Closing date is October 3, 1984.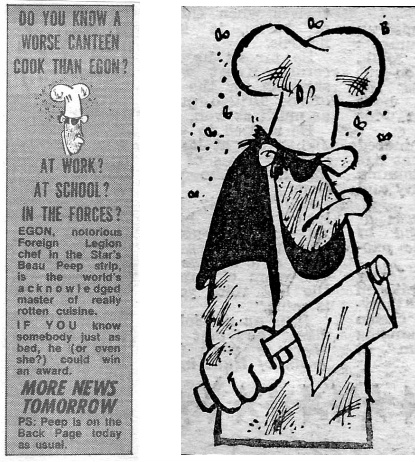 The drawing of Egon on the right here illustrated the article.