Jon Stark
Roger Kettle wrote this football strip which debuted in Issue 1 of Scoop comic in January 1978. It was about a mercenary footballer who would play for any team for hard cash. Jon Stark arrived on the football scene in the late 1970s, a prolific striker who played for different clubs every week in England, and abroad, on a nomadic career path motivated entirely by money.
A self-styled 'Matchwinner for Hire', his terms of service were set out on his business card: '£1k per match plus £250 per goal, no payment for lost games.'
That first story in Issue 1 saw second division's Stone Orient rock bottom in the table after three consecutive defeats. A cup match against top-flight Belmoor saw the club turn to Stark, who told them, 'Play me against Belmoor and I'll guarantee you victory for £1k plus £250 for every goal I score. If we get beaten, you pay me nothing.'
Stark's left foot strike and diving header saw Orient win 2-0. But the Orient manager wasn't happy with Stark's modus operandi, remarking, 'he's good alright, but I don't like him or what he stands for.' Stark wasn't bothered: 'Just give me my 1,500 and I'll be on my way.'
The strip introduced a whole cast of football mercenaries, including Stark's great friend Cosmo Kent (occasionally starring together as 'Stark & Cosmo'), nephew and apprentice Barry Frazer, and goalscoring rival Caspar Rambold.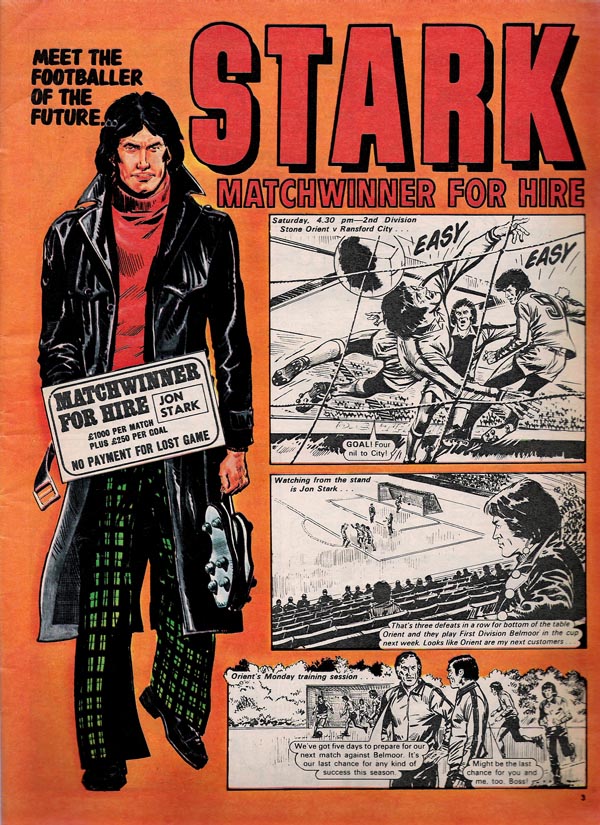 Scoop was a football-centered weekly comic published by D.C Thomson from 1978 to 1981, when it merged into The Victor.