Tee Shirts

A number of different Beau Peep t-shirts and sweatshirts have been available for purchase.
Roger and Andrew did not initially have total control on what was offered, but they did have a say in 'quality control'.

An exception was the sweat-shirt and t-shirt offer, which was the Daily Star's idea, and it was only after they had been produced that they sought Roger and Andrew's permission.

Roger has suggested that this resulted in some bad feelings because the Daily Star had just used a blown-up drawing from one of the strips, instead of commissioning a new special design from Andrew, which would have worked better.
The designs:
The Beau Peep sweatshirt released in 1981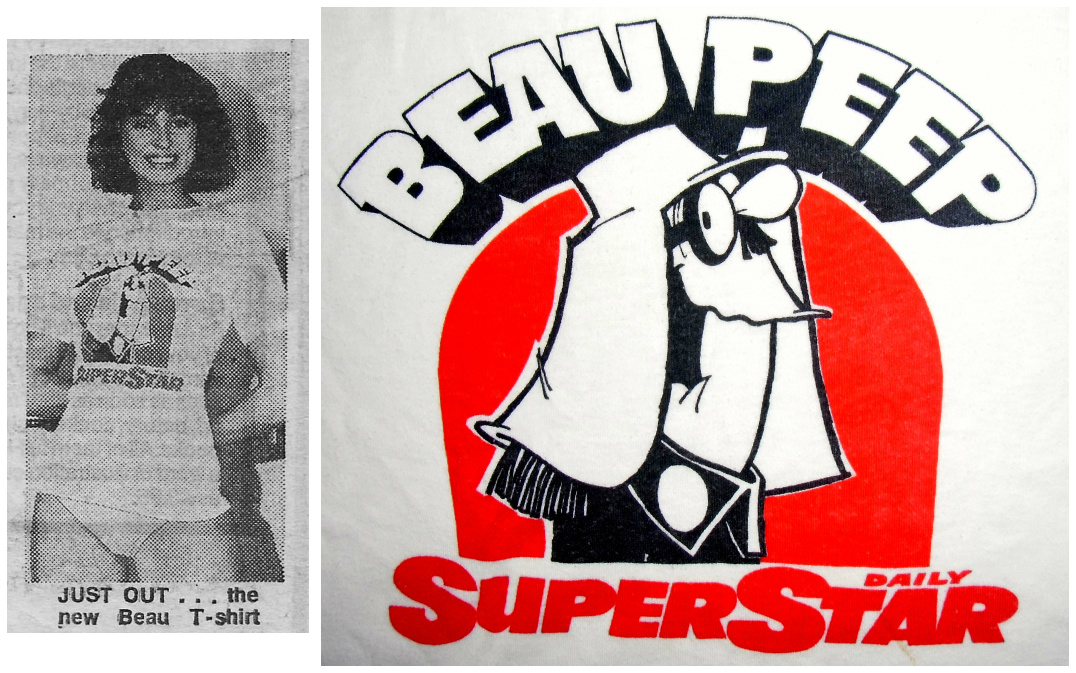 This t-shirt design was released in 1984

The 'RamBeau' t-shirt. This was a 1985 Daily Star promotion in response to the newly released Stallone film, 'Rambo'.

Roger remembers:
"RamBeau became a top-selling tee shirt for us. I think we sold eight."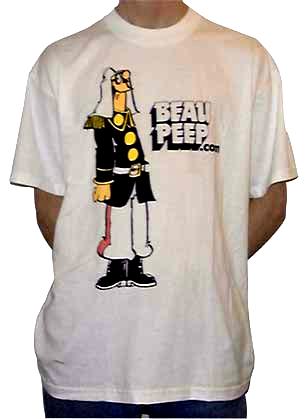 This rather nice one was produced by Nige Sutherland to promote the Beau Peep Website.


Blatant Plug Alert: WOW! There's only ONE word for this - and that's "Super Smart!"
Er... there's only TWO words for this - and that's "Super Smart!"
Be the Beau or Belle of the fort, and knock 'em dead! (That's if Egon hasn't poisoned them first).
Comes complete with sleeves and a convenient hole for you or your partner's head. That's if you let your partner wear it. That's if you've got a partner. Come to think of it, make him buy his own. (Or her, if he's a she)...
Sizes available: Small, Medium, Large or Extra Large . Only £11.45 inc p&p.

Mince - can you put a link to the shop here ? (I couldn't do it)
Other t-shirts were produced by the Daily Star as promotional giveaways and competition prizes:
This was made to promote the Beau Peep Colour Collection book in 1987 and was given away as prizes at the Pontins Beau Peep Parties.

This was a rather nice limited edition item produced exclusively for the 1987 Stringfellows nightclub 'Beau Peep Party' event.

---
These are two Daily Star adverts from 1981, but despite scouring antique and charity shops the length and breadth of the UK, we have yet to find the actual T-shirts showing these designs.